Zhongyi Tengda Iton Wi-Fi6 5G Wireless AP & CPE Solution Has Beside Market
GOOD NEWS! The Wi-Fi6 5G wireless AP & CPE solution developed by Zhongyi Tengda Technology Co., Ltd. has been heavily introduced to the market.
(Wi-Fi6 5G Wireless Routing Scheme)
all said2019 is the first year of 5G business, but you know it is also Wi-Fi6.the first year of commercial business?this ina little low-key under the 5G boomWi-Fi6, but show the sale5G is afraid of the strength.Zhongyi TengdaIton was actively deployed in 2019.Wi-Fi6and other related product solutions have been put on the market to serve various manufacturers.
1.Wi-Fi6?
on September 16, 2019, the Wi-Fi Alliance announced the launch of the Wi-Fi 6 certification program. Wi-Fi 6 or 802.11ax is the latest generation of Wi-Fi technology and the latest version of the Wi-Fi wireless network transmission 802.11 standard. The upper limit of the network transmission rate has reached 9.6 Gbps.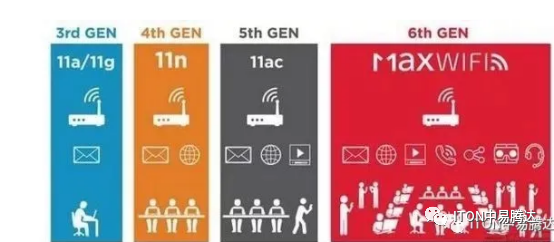 Wi-Fi 6: 1. MU-MIMO (multi-user-multi-input-multi-output, Multi-User Multiple-Input Multiple-Output)2. OFDMA (positive frequency division multiple access, Orthogonal Frequency-Division Multiple Access). Among them, OFDMA technology allows bidirectional multi-client transmission on uplink and downlink, and link multiplexing in frequency division instead of time division multiplexing, allow more concurrent users than MU-MIMO.
2.Wi-Fi6?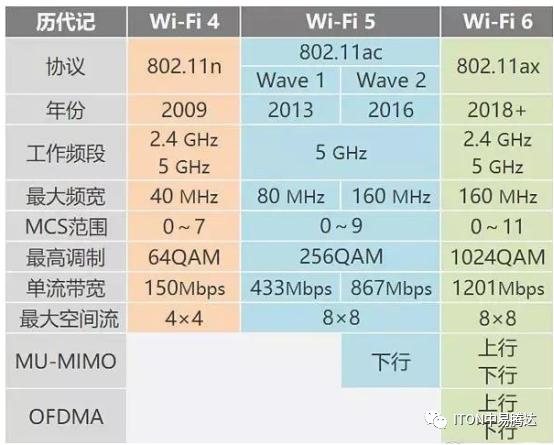 Wi-Fi 6 not only improves the network speed, but also can better optimize the network state and enhance the user experience when a large number of devices are connected at the same time.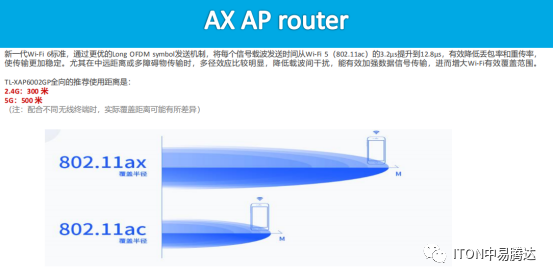 Wi-Fi 6 enables the device to plan communication with the router, thereby reducing the time required to keep the antenna powered on to send and search signals. This means that the consumption of the battery is reduced, thereby extending the service life of the battery.

5G, the fifth generation of mobile communication technology, brings a higher downlink rate, with a theoretical downlink speed of 10 Gb/s. ITON's Wi-Fi 6 module solution can integrate the advantages of Wi-Fi 6 and 5G communication technologies to provide users with a better network experience. Through in-depth cooperation with mobile communication, ITON has realized a Wi-Fi 6 integration scheme for NSA and SA mode 5G network support, and realized multi-user, high-concurrent high-speed network applications in IoT/M2M scenarios.
Attached:

Zhongyi Tengda

Wi-Fi 6

Station

application solution
Digital HD Camera:
8K HDTV and Set Top Box Applications:
ITON single frequency 4*4 Wi-Fi 6 module BW1684-PCIEA,BW1684-PCIEB.

BW1684-PCIEA and BW1684-PCIEB are single-mode modules, supporting IEEE standardized modulation technology, combined with more than 4 times the OFDM symbol length, backward compatibility with previous versions, and backward support for Wi-Fi 5 MU-MIMO. Can be used to develop efficient wireless Wi-Fi 6 access points, forwarders and client solutions.
there are more WIFI 6 solutions, which are not listed here. Contact Iton as soon as possible to obtain product information and discuss business cooperation models ~
Click the lower-left cornerRead the original text, get more Bluetooth, Wi-Fi module related product information.