Yuanhengjia Education Group and Zhongyi Tengda have reached a strategic cooperation to contribute to the education cause.
recently, Shenzhen Zhongyi Tengda Technology Co., Ltd. was invited to attend the school-enterprise alliance signing and licensing ceremony held by Yuanhengjia Education Group at Shenzhen Longhua headquarters.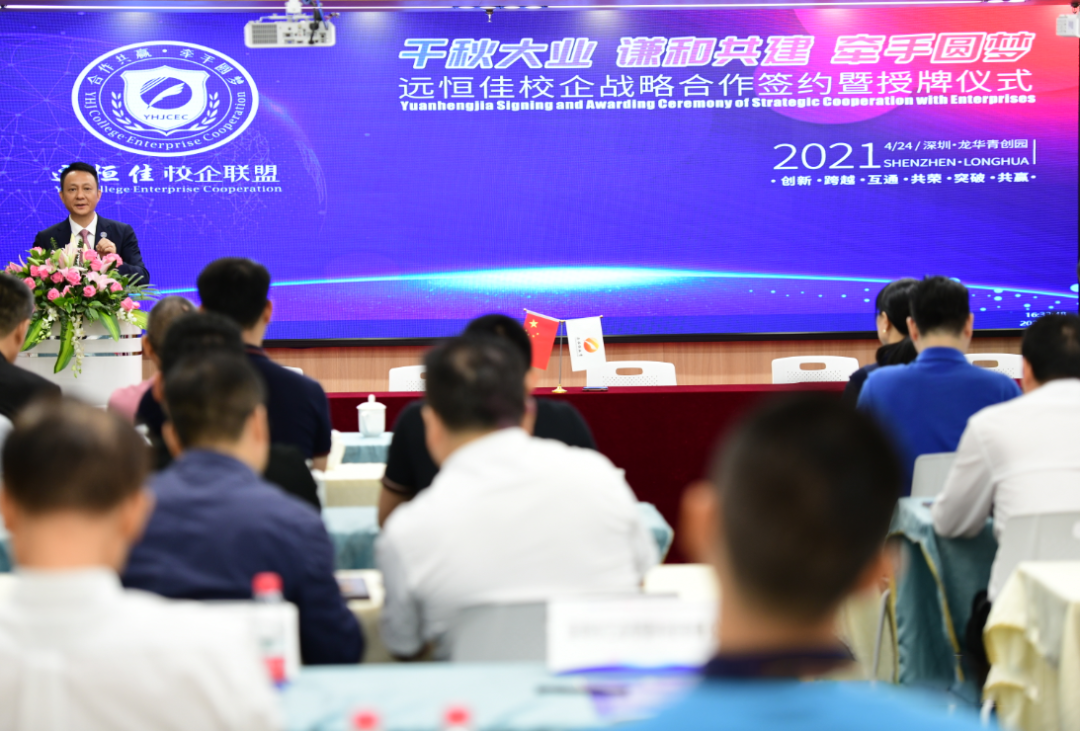 Shenzhen Zhongyi Tengda Technology Co., Ltd., Guangdong Wanxin Electric Co., Ltd., Harbin Institute of Technology Robotics Group, Shenzhen Yidao Group, China Electronics Technology Group, Shenzhen Pengxiang Investment Group Co., Ltd., Shenzhen HSBC Investment Co., Ltd. More than 100 people attended the signing ceremony.
ceremony, Mr. Song Yuanbiao, founder and chairman of Shenzhen Yuanhengjia Education Group, delivered a speech. In his speech, he pointed out that the 18th National Congress of the Communist Party of China issued the "National Vocational Education Reform Implementation Plan", which pointed out the direction for China to promote vocational education.4month12, General Secretary Xi Jinping further made important instructions: speed up the construction of a modern vocational education system and cultivate more high-quality skilled and technical personnel, skilled craftsmen, and craftsmen from big countries.
, he also mentioned that Yuanhengjia Vocational Education has formulated the development concept of "market-oriented, quality-oriented survival, industry-based, and employment-oriented"; proposed "using the enterprise model to operate the school, according to market demand Construct courses", with the innovative idea of "modern apprenticeship and new enterprise apprenticeship, and the mechanism of" joint training with enterprises and work-study alternation.
, Chairman Song Yuanbiao said that with the strong support of the company, Yuanhengjia Vocational Education can definitely explore a path for the development of private higher vocational education with Chinese characteristics, cultivate a new force of talents for cooperative enterprises, and let everyone enter Yuanhengjia Vocational Education Students have the opportunity to shine in life. Taking into account the realization of personal dreams, corporate dreams and Chinese dreams, it will also become the new business card and core competitiveness of Yuanheng Jiamei Education.
then, representatives of enterprises participating in the school-enterprise alliance introduced the development of their respective enterprises. The enterprises participating in the signing of the contract are very strong, of which seven are listed companies. Their emphasis on vocational education, vision for talent training and ambition for enterprise development will certainly help Yuan Hengjia to write a brilliant chapter of school-enterprise cooperation.
Zhongyi Tengda, said: "The new model of Yuanhengjia education and enterprise cooperation can effectively prevent the talents cultivated by the school from not being suitable for the enterprise, and solve the problem that the school does not know what kind of talents the enterprise needs. Make the trained talents more suitable for the enterprise and the society."
representatives from Guangdong Gas Appliance Association, Guangdong Electric Vehicle Chamber of Commerce, Guangdong Electronic Digital Industry Association and other industry associations, as well as Guangdong Wanxin Electric Co., Ltd., Harbin Institute of Technology Robot Group, Zhongshan Xinhe Electronic Equipment Manufacturing Co., Ltd., Shenzhen Gas Appliance Co., Ltd. and other enterprises in different fields respectively signed the "school-enterprise cooperation" with Shenzhen Yuanhengjia Education Group.the strategic agreement of "integration of production and education.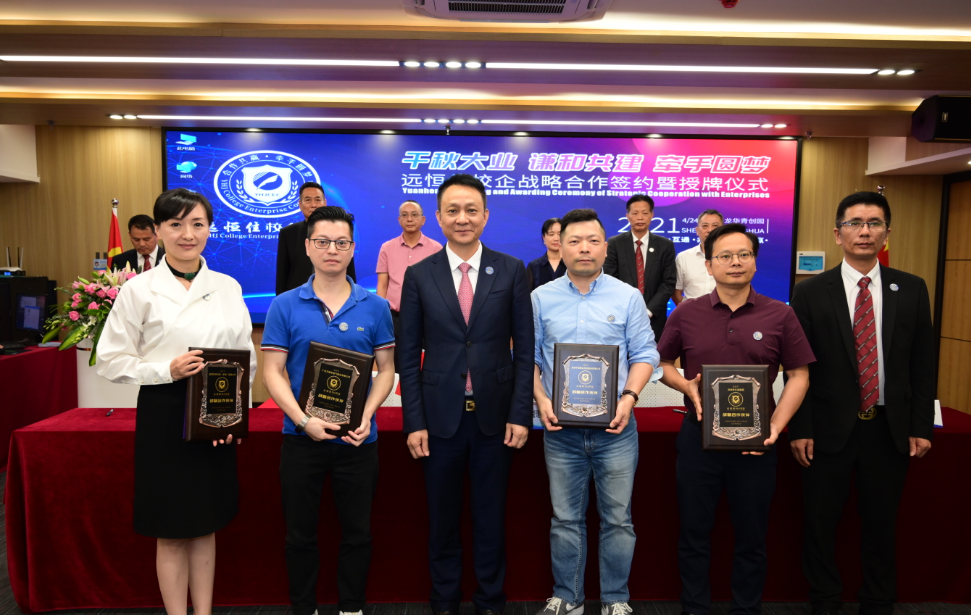 According to the agreement, Yuanhengjia will join hands with Shenzhen Zhongyi Tengda, Harbin Institute of Technology Robot Group, Wanhe Electric, Shenzhen Yidao Group, China Electronics Technology Group, Shenzhen Pengxiang Group, Zhongshan Xinhe Automation and other leading domestic enterprises to build a number of high-level training bases and build a number of high-level vocational education training bases that share resources and integrate practical teaching, social training, enterprise real production and social technical services.
, as a high-tech enterprise focusing on providing perceptual fusion and information transmission solutions, Zhongyi Tengdahas long been committed to the application research and development of perceptual fusion technology and wireless communication technology and related personnel training,is committed to providing customers with a perceptual fusion scheme based on sensor technology and edge computing.has been since its inceptionhas continuously developed and innovated..Zhongyi Tengda sincerely welcomes people from all walks of life to cooperate extensively.,Give full play to their respective advantages,mutual benefit,common development.